Topic- Best Medical equipment for Home 2021
---
Now a day looking at the conditions of the environment. it is very important to keep some Best Medical equipment for Home use which helps us check our conditions of Health. they are.
Weighing Machine
Blood pressure monitor
Blood Suger Testing (Glucometer)
---
weighting Machine
---
Hoffen HO-18 Digital Electronic LCD Personal Body Fitness Weighing Scale (Black)
---
An elegant look with ultra-slim tempered glass &accurate results with precision G sensors
Hoffen presents to you a sturdy and tough electronic weighing scale that is made with an anultra-slim tempered glass body. The scale has round &smooth corners with no sharp edges for effective utility &an elegant look. For accuracy, the machine has in-built precision G sensors.
---
Step on/ Auto-off technology designed in India
Exclusively designed in India by skilled artisans, this lightweight, and handy weighing scale has automatic power-on sensors that show up your weight when you step on the machine along. It also has auto-power-off sensibilities that save the battery power.
---
Clear view with LCD &backlight and Skid-proof legs with strong built-up
The grey and orange-colored weighing scale show your results in digital units on an LCD screen that has a blue backlight for easy readability and clear-view in any condition. The machine also comes with skid-proof legs that give it a strong build-up for longer life.
---
Blood Pressure Monitor
---
Dr. Morepen Bp02 Automatic Blood Pressure Monitor (White)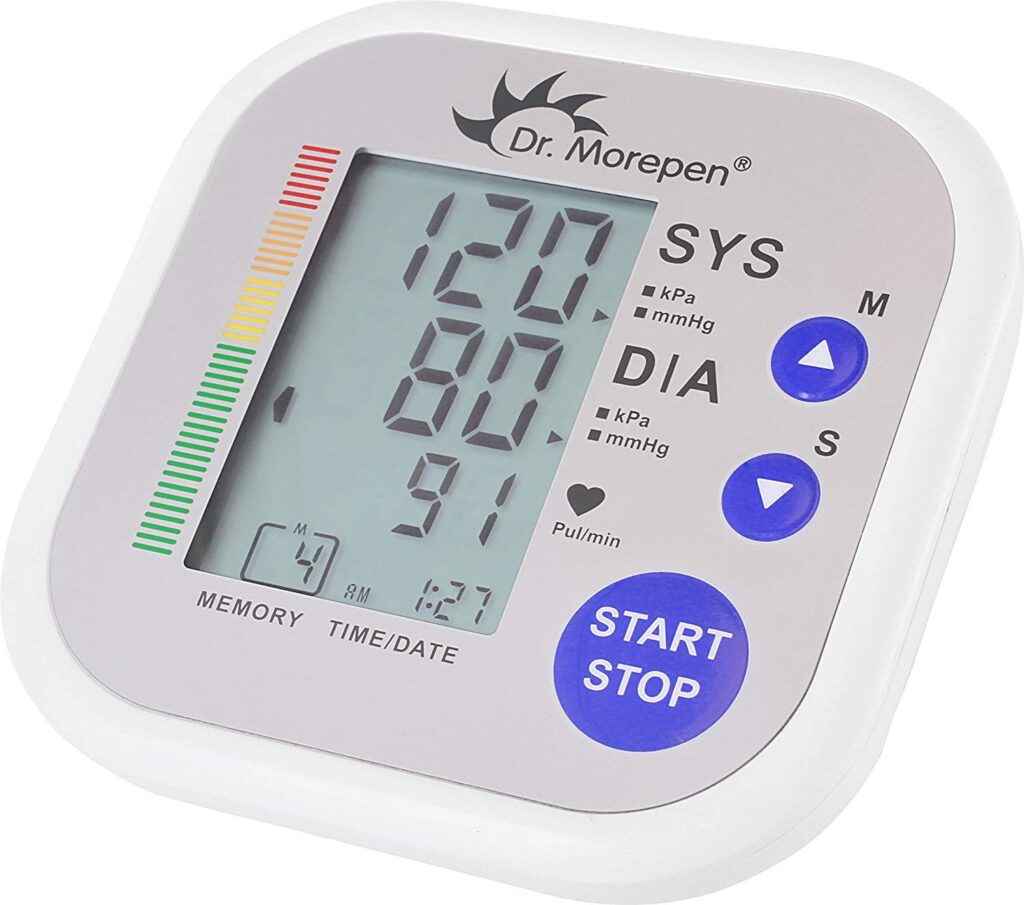 ---
High-Low Classification Indicator
Averages the Last 3 readings
Memory: 120 Records
Irregular Heartbeat Detection
User Interface for 2 Users
Comfort Inflation Technology
---
Dr. Morepen bp 02 is a fully automatic, digital blood pressure measuring device for use on the arm, which enables very fast and reliable measurement of the systolic and diastolic blood pressure as well as the pulse frequency by way of the oscillometric method of measuring. The device offers a very and clinical tested measurement accuracy and has been designed to provide a maximum of user-friendliness.
---
Blood Suger Testing ( glucometer )
---
Accu-Chek Instant glucometer with 10 test strips FREE (White)
---
Effortless wireless synchronization:
Once connected with the mySugr management app, the meter automatically logs your blood glucose results and wirelessly transfers them to your smartphone.
---
Visual reassurance with Target Range indicator:
With an intuitive target range indicator, get visual reassurance and individualize it to suit your personal goals.
---
Easy-Edge test strips:
Accu-Chek Instant easy-edge test strip has the largest dosing window. It can be dosed anywhere along the edge and automatically absorbs the blood from the patient's finger.
---
1-button navigation:
Press to turn on and off, and make the selection with just one button.
---
Conclusion
Thus we see in the above Best Medical equipment for Home 2021 which is essential to keep at Home. To check our health. what you think my friend please comment here. Thank you.